---
Henry Métert
Moulinié Ainé
---
Métert-Langdorff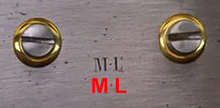 Langdorff-Métert
Métert schied am 29. September 1852 aus und verstarb am 3. Juni 1855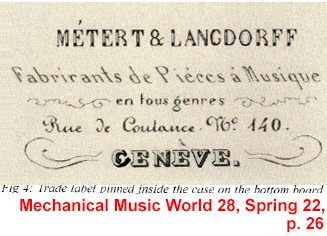 ---
Agents: Lee & Fils, Lion Frères, Minas
---
Langdorff
Malignon
---
Exposition universelle de 1878: Langdorff & fils was one of the three winners of the highest musical box award in the Exposition universelle de 1878 in Paris. (Bulleid, Technology, p. 17-18)
---
---
Two important Henri Meterts:
Isaac Henri Metert, 1801 – 1855
Jacques Antoine Henri Metert, (grand son of Isaac Henri Metert), 1854 – 1933
"Suzanne Maurer identifies no fewer than three Henri Meterts. Isaac Henri was born illegitimately on 31 January 1801, son of Jeanne Antoinette Metert and a calico printer called Gottlieb Ast. At the age of 10 his mother died and when he was 22 he married Henriette Noyer. In 1844, directories list him as being in business with Langdorff, David (born 1804, died 1873) at rue Coutance 140. They made quality musical boxes and exhibited at the Great Exhibition of 1851, obtaining an award. On 29 September 1852, their partnership was dissolved. Langdorff remaining in business at their former address. Isaac Henri Metert died on 3 June 1855, at Lancy, Geneva, aged 54.
Jacques Antoine Henri Metert was born on 1 August 1854, at Carouge, Geneva. He was the grandson of Isaac Henri, his father, Marc Barthelemy Metert (who married Françoise Jeanne Chapuis) being the son of Isaac Henri. Said to have worked all his life as a mechanic for Nicole Frères, having started in their Geneva factory at the age of eleven. He later came to London and worked for Nicole Frères, first at Hatton Garden and then at Ely Place, until they ceased business in 1903. Metert then carried on the business at 28 Ely Place, London, E.C. until his death in 1933. In July 1906 advertised as trading in musical boxes, polyphons [sic] and phonographs. He produced mechanical singing birds and is said to have made a musical box which played all bells. He improved on Amédée Paillard´s inventions regarding changeable-cylinder boxes in 1879, by devising a type of mechanism which could allow immediate changing of the complete cylinder by lifting a catch at each end." (Ord-Hume, Music Box, 1980,  p. 320)
---
Metert, Petite & Co (1878)
Metert, Petite & Cie (1879 – 1882)
Société Genèvoise de Nickelage (1882 –?)
"There is some mystery about the partnership of Metert, Petite & Co., of 14 rue Sismondi, Geneva, founded on 1 January 1878, for the manufacture of musical boxes. The partners were Henri Metert and Louis Petite, an accountant. The registered address was initially its workshop, rue J.-J. Rousseau, number 20."
"One year later, the partnership was joined by a merchant, Auguste Schmidely, and the name changed to Metert, Petite & Cie, and the objects increased to include electroplating." (Ord-Hume, Music Box, 1980,  p. 320)
"In 1882, Henri Metert left and the business changed its title to Société Genevoise de Nickelage. Some doubt exists as to whether this Henri Metert was the same one as that who came to London and who died in England in 1933 at the age of 80 years. One very large four-overture box is in the Utrecht museum. Marked Metert-Langdorff, it is a full mandoline with 10 teeth to each note. The 301-tooth comb is held down by 36 screws in two staggered rows."
(Ord-Hume, Music Box, 1980,  p. 320)
---
David Langdorff, *1804, 1844 – 1852 partnership Metert & Langdorff, †1873
1873 – 1898: Langdorff & Cie
1898 – 1902: John Langdorff
1902 –?: Société Anonyme des Fabriques Réunies des Boȋtes à Musique, Anciennes Maisons Rivenc Langdorff et Billon
"Born in 1804, Langdorff claimed that his musical-box manufacturing business had been found in 1838. According to Pierre Germain, the business was located at 13 rue de Coutance in Saint Gervais, Geneva, in 1867. In 1844, David Langdorff was partner in the company known as Metert & Langdorff withotal Isaac-Henri Metert, the grandfather of Henri Metert who worked in London for Nicole Frères and who died there in 1933. Langdorff´s relationship with Metert lasted from around 1838 until they dissolved the partnership in 1852. He died in 1873 and the business was carried on by his wife and his son, John Baptiste Langdorff, under the name Langdorff & Cie."
"In 1898, the name became John Langdorff until 1902, when the business was absorbed into the Société Anonyme des Fabriques Réunies des Boȋtes à Musique, Anciennes Maisons Rivenc Langdorff et Billon."
(Ord-Hume, Music Box, 1980,  p. 312)
---
===First Part===

Siehe unbedingt eine WEITERE Liste von Spieldosen (-werken)
der Firmen Métert & Langdorff mit vielen Abbildungen (
) (+

Malignon) (including a to Métert attributable No. 7119)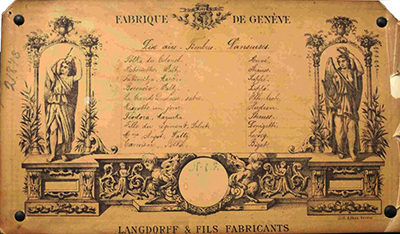 Three chapters of the Main (featured) composers:
chapter 10/5 (

music boxes);
chapter 14/1 (

music boxes);
chapter 14/2 (

music boxes); and
14/3/c (

) (1 music box)
plus a list of serials (


)

,

+

+

+

+

+


=


Gesamtzahl aller Spieldosen / Total:
---
---
---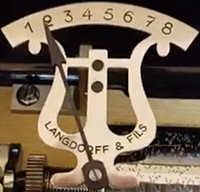 Langdorff and Metert. They were partners from 1844 until 1852, but David Langdorff started about 1838. The firm continued as Langdorff et. Cie. from his death in 1873 till his son John took charge in 1898. (Bulleid, Technology, p. 2)
| | |
| --- | --- |
| Mit Schlüsselaufzug | Mit Ratschenaufzug: |
---
---
Index


Nummerierte Spieldosen /


music boxes with serials
1409; 1264; 1379; 1385; 1409; 1686; 1820; 1849; 2100; 2293; 2328; 2597; 2627; 2683; 2764; 2856; 3013; 3151; 3828; 3919; 4171; 4137; 4208; 4217; 4262; 4349; 4363; 4444; 4954; 4978 (1); 4978 (2); 5011; 5192; 5264; 5280; 5406; 5502; 5602; 5609; 5659; 5676; 5857; 5695; 5807; 5964; 6157; 6622; 6809; 6876; 6882; 6959; 7275; 7625; 7667; 7785; 7787; 7789; 7909; 7923; 8010; 8297; 8663; 9159; 9601; 9712; 9924; 10051; 10380; 11258; 11833; 11258; 11768; 12067; 12923; 12930; 13013; 13280; 13398; 13401; 13645; 13664; 13718; 13820; 13645; 14096; 14353; 14534; 14929; 14970; 15001; 18554; 18575; 19347; 20092; 20254; 20303 (1); 20303 (2); 20430; 20430 (2); 20570; 20649; 21594; 21873; 22832; 24003; 24377; 24835; 25063; 27045
---
---
Design

Nr.

Hersteller
Maker

Marks
on cyl.

Cyl.
length
inches

nr.
of
tunes

Year
and
Type

1844: Beginn der Zusammenarbeit von Métert und Langdorff
(TMB 2020/29/5 p. 182)

1409

H. Métert


G 16-44


8

4

1844
Piano

TMB 2020/29/5 p. 182

1264

H. Métert

13

1379

H. Métert

G 270

8

4

Fortepiano

1385

H. Métert

G 279-43

8

4

Fortepiano

1409

H. Métert

G 16-44

8

4

Fortepiano

1686

H. Métert

G 179-44

12 1/4

4

Fortepiano

1820

Langdorff

13

1849

Moulinié Ainé (der Ältere)


G 448-44

11 1/4
13
(abweichende Angaben)

4

1844
Fortepiano Overture

TMB 2020/29/5 p. 182

2293

Métert & Langdorff


G 201-19 /
G 201-18

10 1/4

6

later tune sheet from 1848
Piano

Bulleid 155 / (abweichende Angaben)

2328

Moulinié Ainé (der Ältere) / Lion Frères


G 419-45

9

4

1845
Piano

TMB 2020/29/5 p. 182

2597

F. H. Bourquin

G 178-46

8

4

Métert & Langdorff / Moulinié Ainé


G 419-45 /
G 178-46

8 / 9

4 / 9

1846
First Square piano / Fortepiano
(abweichende Angaben)

Bulleid 59

2683

H. Métert


G 232-46

9 / 13

4 / 6

1846
Piano / Fortepiano (abweichende Angaben)

TMB 2020/29/5 p. 182

2856

Métert

G 391-46

11

8

. Métert


1846
Square piano

Bulleid 385

3828

Lion Frères

G 727-47

8

Langdorff

G 136
48

11 3/4 /
11 1/4 (abweichende Abgaben)

4

1837/1848


TMB 2020/29/5 p. 182

4171

Moulinié


G 248-48

13 1/2

6

1848
Fortepiano

TMB 2020/29/5 p. 182

Piano

Maker not certain




Piano




Piano




Piano




12
Piano

Langdorff


Piano

4208

Métert


G 96/48

4217

Malignon

G 356-48

13

4

Overture

Langdorff


Piano

Langdorff


Piano
Skinner

4363

Metert & Langdorff

G

21 1/4

4

Mandoline Overture

4444

Métert

G

8

4

Fortepiano

4954

Métert

G 544/49

11

6

Piano

Langdorff


Piano

5011

Malignon

G 591/49

15 1/4

6
Piano

Fortepiano, 11 bells

5192

Malignon

G 135-50

13

5264

Malignon

G 290/50

13

6

Fortepiano, 11 bells

5280

Malignon

G 266-50

8

4

Langdorff

1850

Alleinstellungs-
merkmal der Musiktafel: Gravur einer Metallplatte

TMB 23, 2008, 6, 188

5602

Langdorff

715-51

15 1/4

6

Fortepiano, 11 bells

5609

Moulinié Ainé

G 54/51

8

4

Fortepiano

5659

Métert

8

4

Fortepiano

5676

Moulinié Ainé

15

6

Fortepiano

5857

Métert

13

6

Hidden drums & bells

5695

Langdorff

6

4

Langdorff


1851
Piano

Bulleid 105

Métert


6157

Langdorff


G 550
51 / G 350/51 (verschiedene Angaben)

15
(inter-
change-
able)

6
(inter-
change-
able)

1851

TMB 1979/9/ p. 129

Fortepiano

Métert & Langdorff


G

6

4

TMB 2020/29/5 p. 182

Langdorff


G 431
52

13 1/2

6

1852
Piano

Fortepiano

1852: Ende der Zusammenarbeit von Métert und Langdorff
(TMB 2020/29/5 p. 182; TMB 9, 3, 1979)

6809

Michèle Minas

633

8

4

6876

Lee et Fils

G 11/53

13

6

Fortepiano

Langdorff: Hidden drums & bells


G 502/52

13

6

1852

Bulleid 82 and TMB 2020/29/5 p. 182

6959

Langdorff: Hidden drums & bells


G 715/53

15 1/4

6

Fortepiano, 11 bells

Langdorff


G 113
54

9 1/8

Piano

Theriault's

7625

Langdorff


G 113
54

9 1/8

4

1854

TMB 2020/29/5 p. 182
Hidden drums & bells

7667

Malignon


G 151
54

20

4

1854
Part overtures

TMB 2020/29/5 p. 182

7785

Malignon

G 302
54

7787

Langdorff

G 304
54

13

6

Fortepiano

Langdorff


4

Langdorff


4

1858
Piano

Bulleid 60 and TMB 2020/29/5 p. 182

Langdorff


6

4

8010

Langdorff

G 538/54

12 1/4

12

2/turn

8297

Langdorff

G 36/54

13

12

2/turn

8663

Langdorff

534/55

6

4

BL 534/55

Langdorff


?

9601

Langdorff

G 571/56

13

8

?

9712

Langdorff

G 764/56ss

13 1/8

8

Hidden drums & bells

9924

Langdorff

G 111/55

13

12

2/turn

?

10051

Langdorff

G 262/57

15 1/4

8

Fortepiano

Langdorff

?

11258

Langdorff

G 641/58

15 1/4

8

Fortepiano Mandoline

?

11833

Langdorff

511/59

13 1/4

6

Fortepiano, BL 511/59

Langdorff

Piano

Langdorff

Piano

?

12067

Langdorff

11

6

12923

Langdorff

G 409/61

13

4

2 cyl, inter-changeable

12930

Langdorff

G 407/61

15 1/4

8

Fortepiano

Langdorff


1861
Piano

Bulleid 13

Langdorff


4

Piano overtures

Langdorff

13401

Langdorff

13

4

Mandoline

13645

Langdorff

G 85/63

13

3

Fortepiano Overture

Langdorff

G 81/63

13

4

1863
Piano

TMB 2020/29/5 p. 182
Mandoline

Langdorff

Piano

13645

Langdorff


G 36 63

13

4

Piano

TMB 2020/29/5 p. 182

Langdorff


G

Piano

TMB 8, Christmas, 196

14353

Langdorff

11

6

14534

Langdorff

G 25/65

13

4

Fortepiano Mandolin

14929

Langdorff

G 462/65

19 1/4

3

Fortepiano Mandolin, 2 revs per tune

Langdorff


1867
Piano

Bulleid 84

Langdorff


1867
Piano

Langdorff


1868
Piano

Churchward

Langdorff


1878
Piano

Bulleid 389

20254

Langdorff

127

13

6

CT BL 127v

20303

Langdorff

190

13

6

HHT BL 190/81

20430

Langdorff

306

13

6

CT BL306

20570

Langdorff

13

6

CT

20649

Langdorff

17

13

6

CT

22832

Langdorff

144

14

12

6 bells struck by mandarin

24003

Langdorff

24

13

8

BL 24/90

24377

Langdorff

19 1/4

8

Sublime Harmonie Special

24835

Langdorff

17 1/4

6

Sublime Harmonie Special

25063

Langdorff

13

6

Harpe Piccolo
---
Siehe unbedingt eine weitere Liste von Spieldosen (-werken) (
)
---
---
Teilnehmer bei der Nationalen Ausstellung in Zürich 1883
und bei der
Weltausstellung in Amsterdam 1883
---


Teilnahme an der "International Inventions Exhibition" im Jahr 1885
---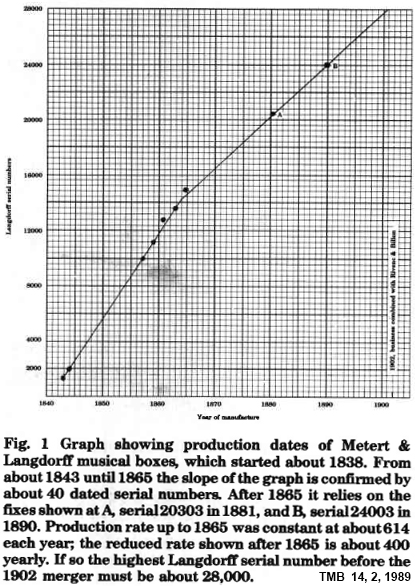 ---


Reparaturvermerk von Henri Metert auf der Grundplatte einer Spieldose
---
---
Siehe eine kleine Zusammenstellung
---
Moulinié Ainé:
•never exhibited musical boxes
•had apparently no own tune sheets
•despite high serial numbers astonishingly rare
Apparently there was a cooperation / teamwork between Moulinié Ainé and Langdorff:
•Musical boxes marked Moulsinié display all Langdorff characteristics
•inluding Langdorff-tune sheetsheets and
•fit in den numbering system
(TMB 2020/29/5 p. 182)
---
Langdorff characteristics:
•a third dowel pin at the back centre of the main comb (only visible under the comb)
•face a comb finshed lengthwise
•serial cumbers stamped om comparatively large numerals 4 or 4,5 mm high
•brass comb washer
•gamme number and last two figures of the year scratched on bass end cylinder cap
(TMB 2020/29/5 p. 182)
---
Two styles of marking on the
base end cylinder caps
of Langdorff musical movements: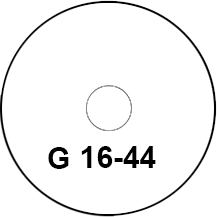 early type
---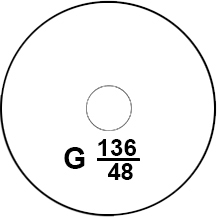 s
late type
---
---
Kleinformatige Spieldosen
Tabatière von Langdorff/Brémond 2220
---
---
Normalformatige Spieldosen
---
---